I was inspired to make this cocktail while actually eating a scone –I had a ginger-pear-fennel scone and I thought…man that would make a great cocktail!
Michael Callahan
Always do sober what you said you'd do drunk. That will teach you to keep your mouth shut.
Earnest Hemingway
I always take Scotch whiskey at night as a preventive of toothache. I have never had the toothache; and what is more, I never intend to have it.
Mark Twain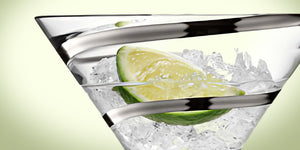 glassware highlight: Malika Grand Platinum Cocktail Glass
Treat yourself or those you love to the exquisite experience of mouthblown glass. The hand-applied platinum spiral of these magnificent tall stemmed glasses emphasizes the exquisite qualities of the glass and adds grandeur to table settings. Wrapped in tissue and gift boxed in pairs.
Buy Now
Live the Life!
You put everything on the line, every day to carve out your corner of the world. Isn't that effort worth the perfect cocktail, poured into the waiting embrace of the perfect glass? We think you know the answer!